Doric Columns
Knit! is the fourth edition of Kvadrat's Design Projects.
A rigid and static element, the literal support of classical architecture, continually reinterpreted by architects and artists alike, the column carries more than simply the weight of the roof above it. The column is imbued with a deep history; from the meticulously hand carved marble blocks of ancient temples to the modern executions by artists such as Brancusi, Noguchi, and Sottsass.
We propose an alternative exploration of the column in this continuing story. Opposed to the commonly stoic, guardian-like character, we a column which transforms with the presence and interaction of its viewers.
The columns stand, covered in a multitude of different fabrics, and from first sight are static. As a one approaches however, the columns begin to spin. Each column is broken into discrete sections stacked vertically, with these sections spinning at varying speeds and in different directions. "
At Doric Columns inspiration came from the rotating knitting machines to create an interactive object where the textile is not a passive element but the protagonist itself.
What is seemingly a fixed and static vertical post, the Doric Column, is transformed into an element of play and surprise into a visual abundance of textiles, colors and shapes.
Two five-segment true size columns, are structured by stacking independently rotating textile clad parts one on top of the other. The column vertical flutes are abstractly conveyed using textile, clad over sculpted parts or appearing sliced in a similar rhythmic pattern.
The columns are being deconstructed and constructed again as the segments rotate in different speeds and directions in a randomly arranged pattern breaking the continuous flute pattern thus creating a new visual effect as the fabrics float and reshape against the air.
People movement detection around the columns triggers the columns to begin and stop spinning enhancing further the element of play and interaction detaching the visitors experience of the textiles from just their tactile properties and into a new field of perception.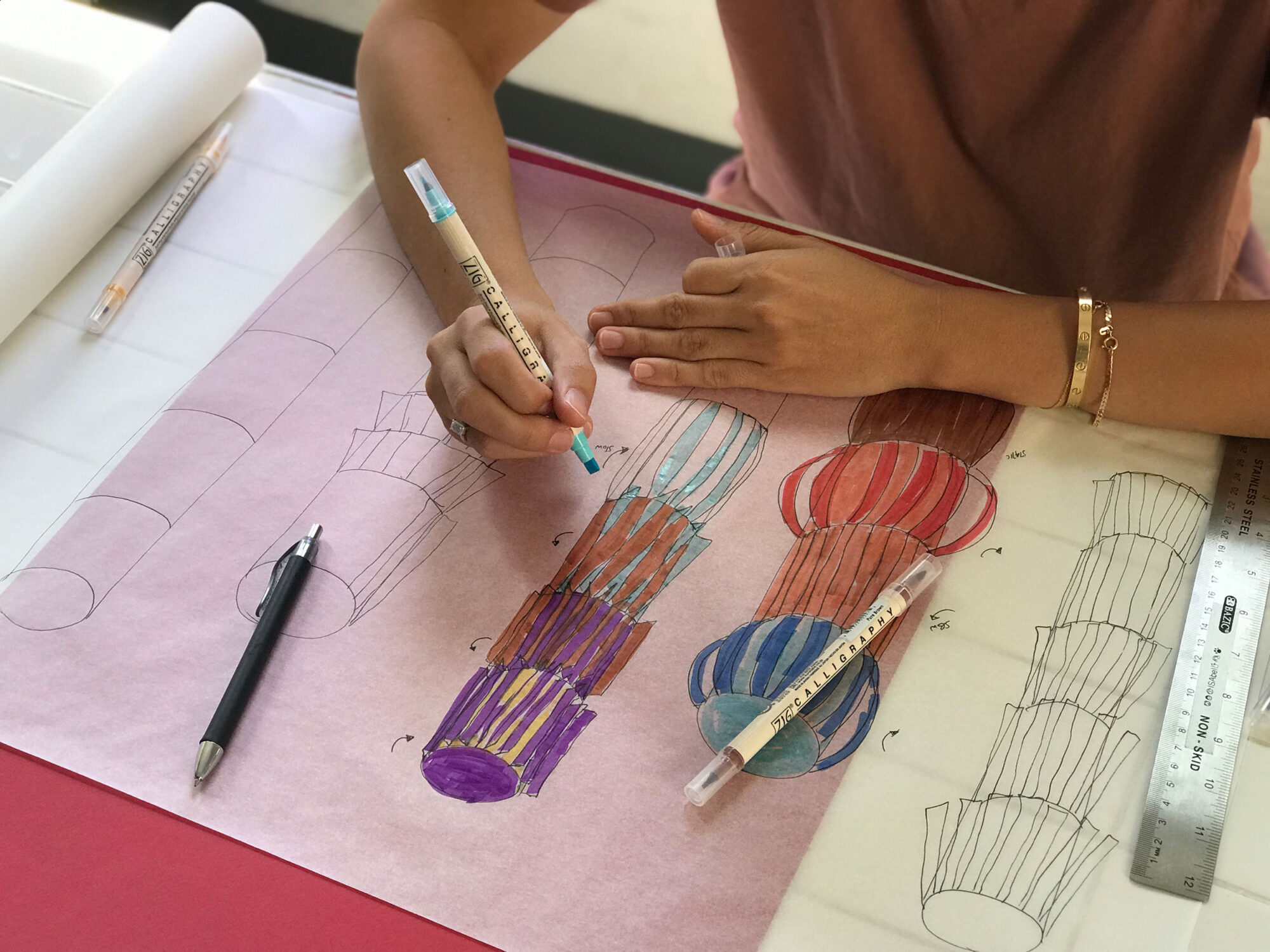 Photographs by Luke Evans